A Case of Anhydramnios
Case Studio Posted By : Dr. Chandrajeet Yadav, Indore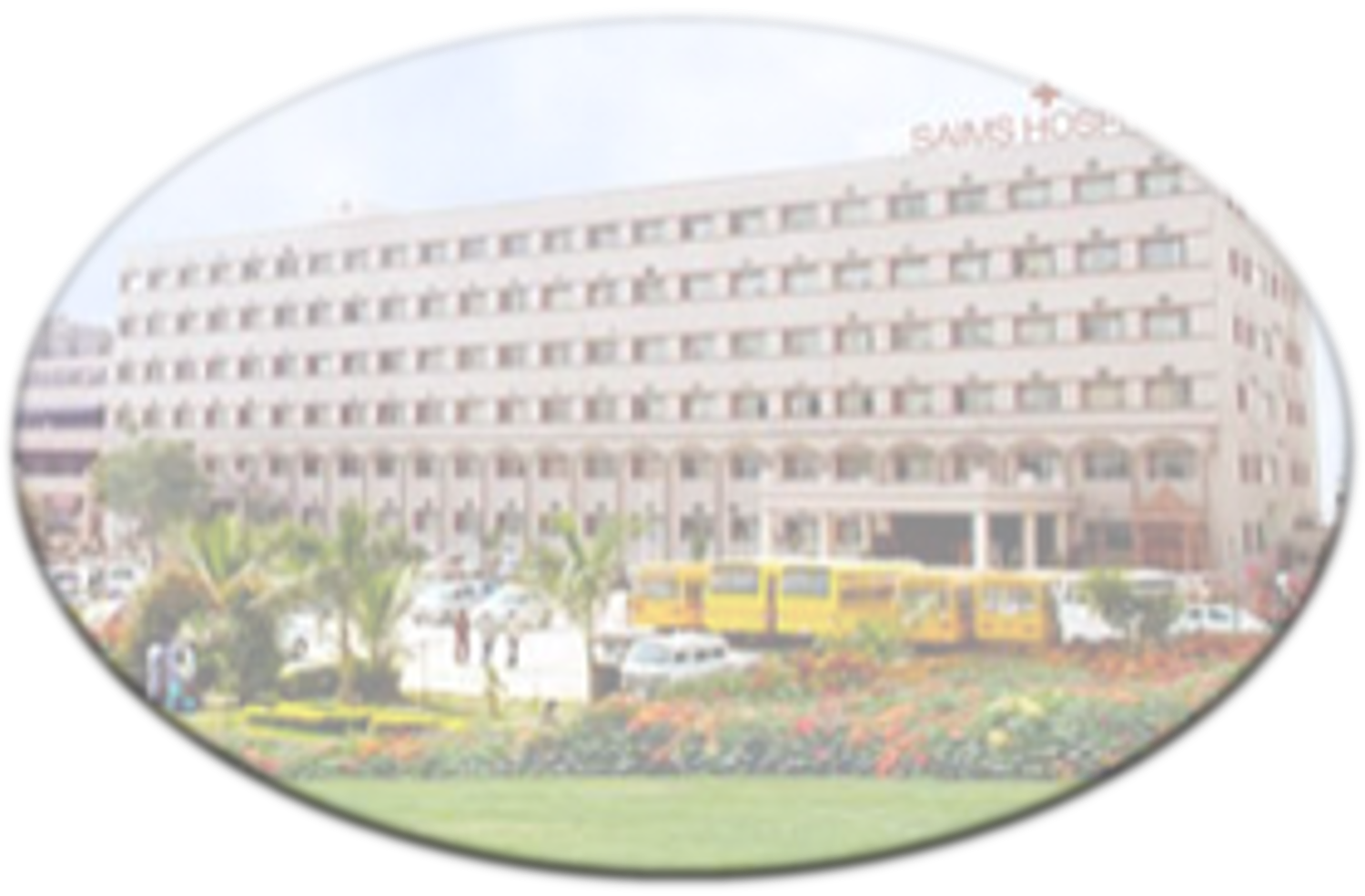 Description
A 21-year-old, primigravida without any significant past medical history was referred to our department for evaluation of a 19 weeks gestation. A 21-year-old, primigravida without any significant past medical history was referred to our department for evaluation of a 19 weeks gestation.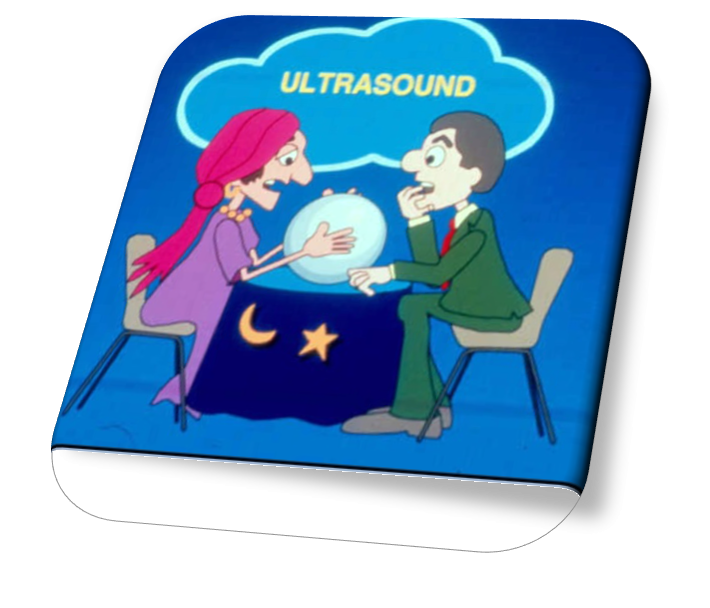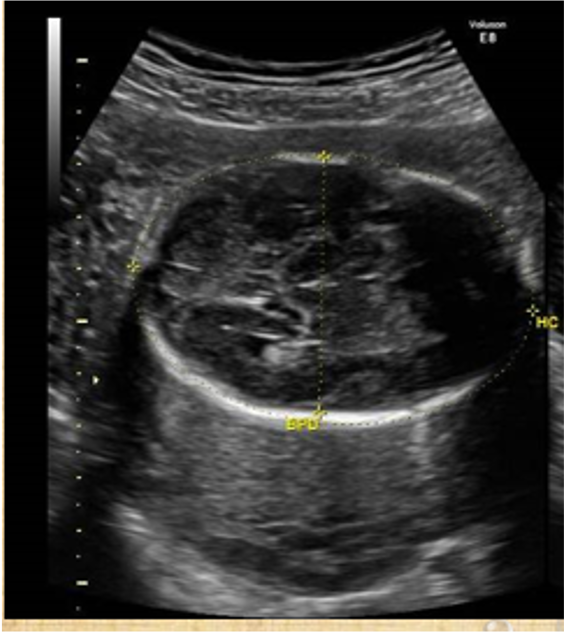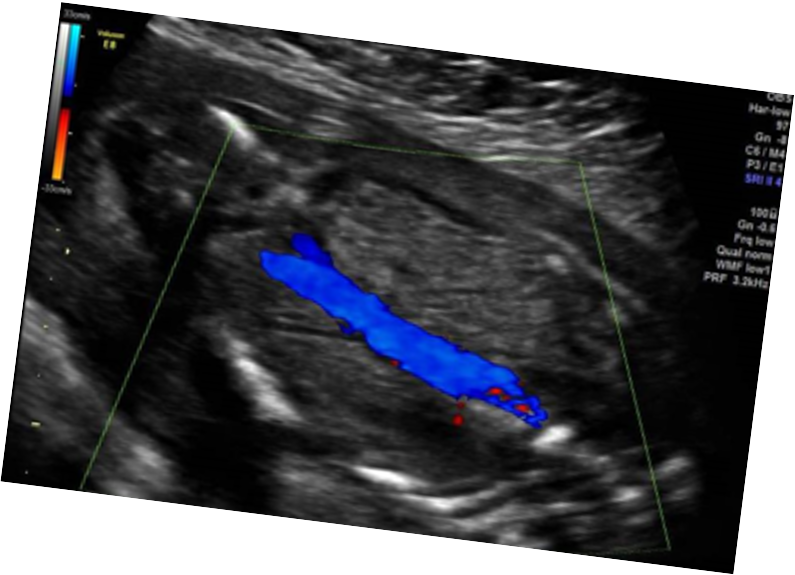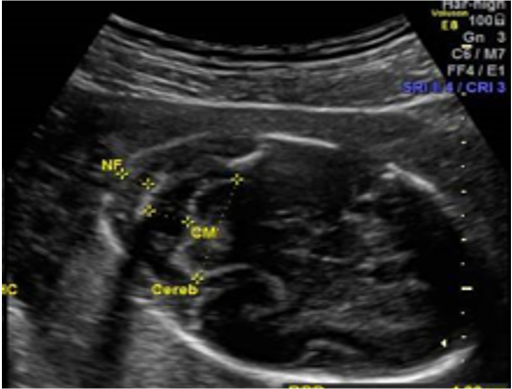 .
Sonography revealed a live fetus having it's head and body tightly packed in the uterine cavity due to anhydramnios. There was the absence of bilateral kidneys and renal arteries.
---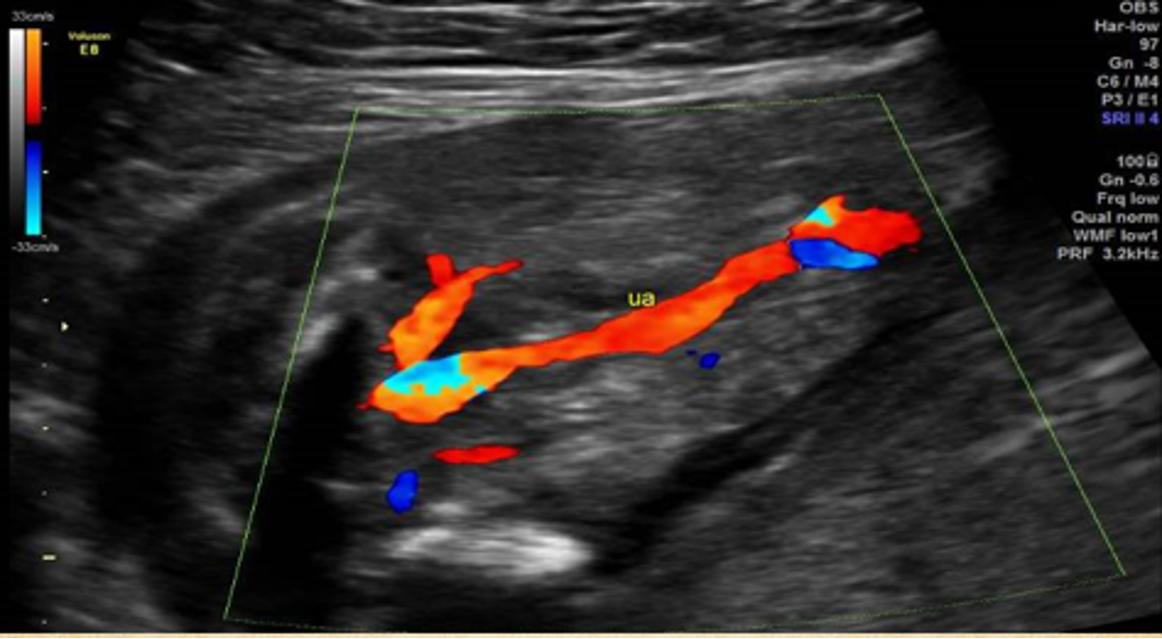 There was single umbilical artery. Urinary bladder was not seen.
---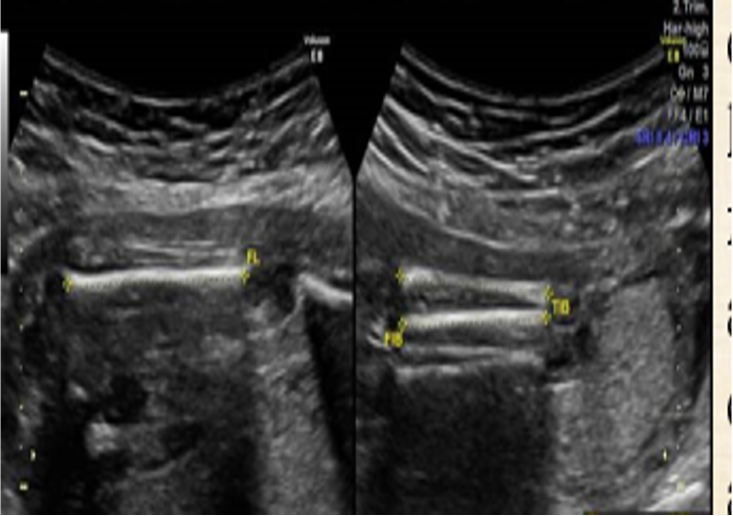 ---
Detailed survey revealed fusion of lower extremities and crowding of lower extremity bones was seen by convex probe. There was presence of two femurs, two tibias, two fibulas and two feet.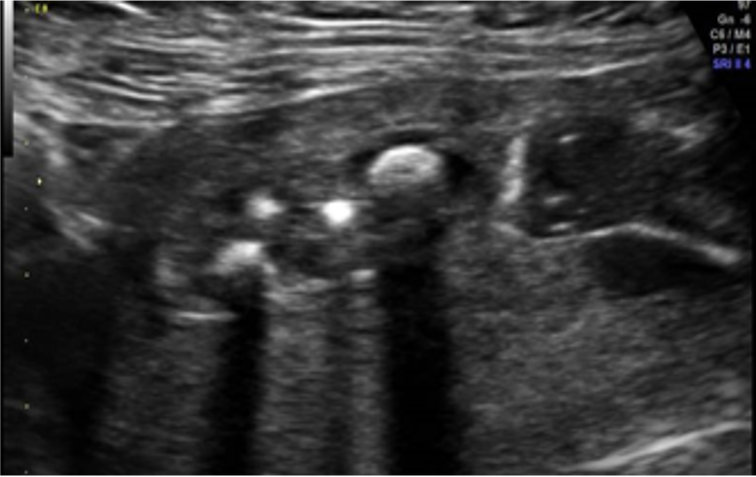 ---
Transverse sonogram obtained by linear probe revealed both tibia, both fibula and their attached soft tissue encompassed in a single cutaneous layer.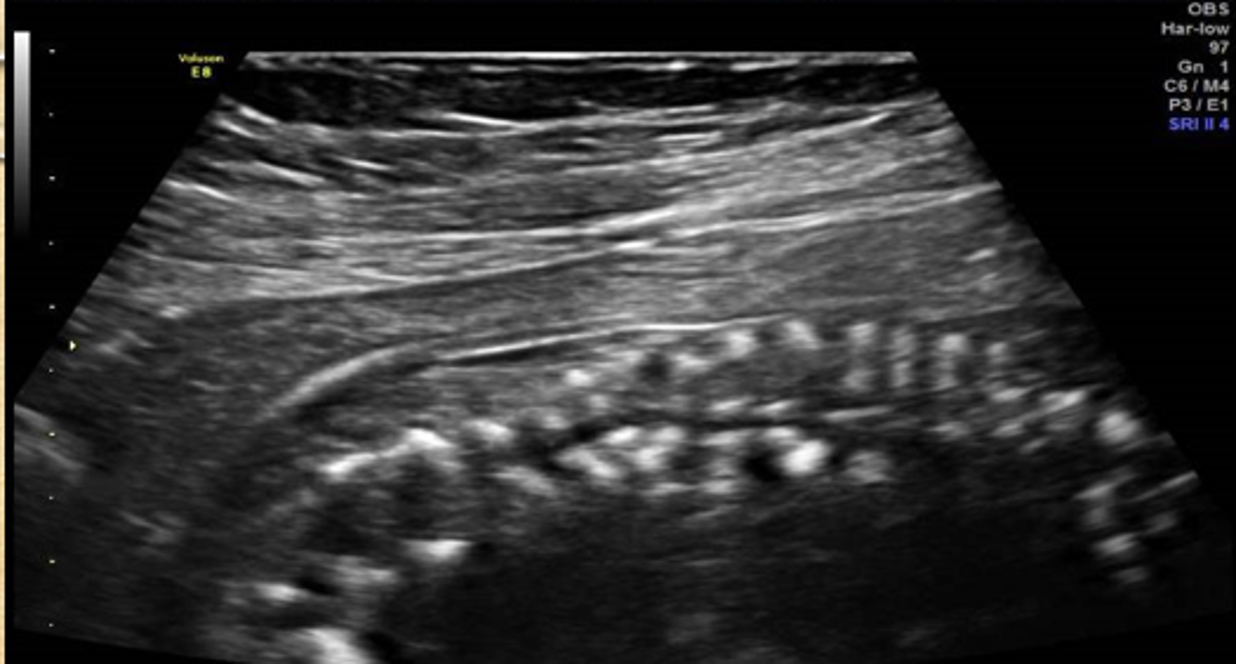 ---
A sonographic diagnosis of "sirenomelia" with associated findings like bilateral renal agenesis, vertebral segmental anomalies and sacral agenesis was given.
---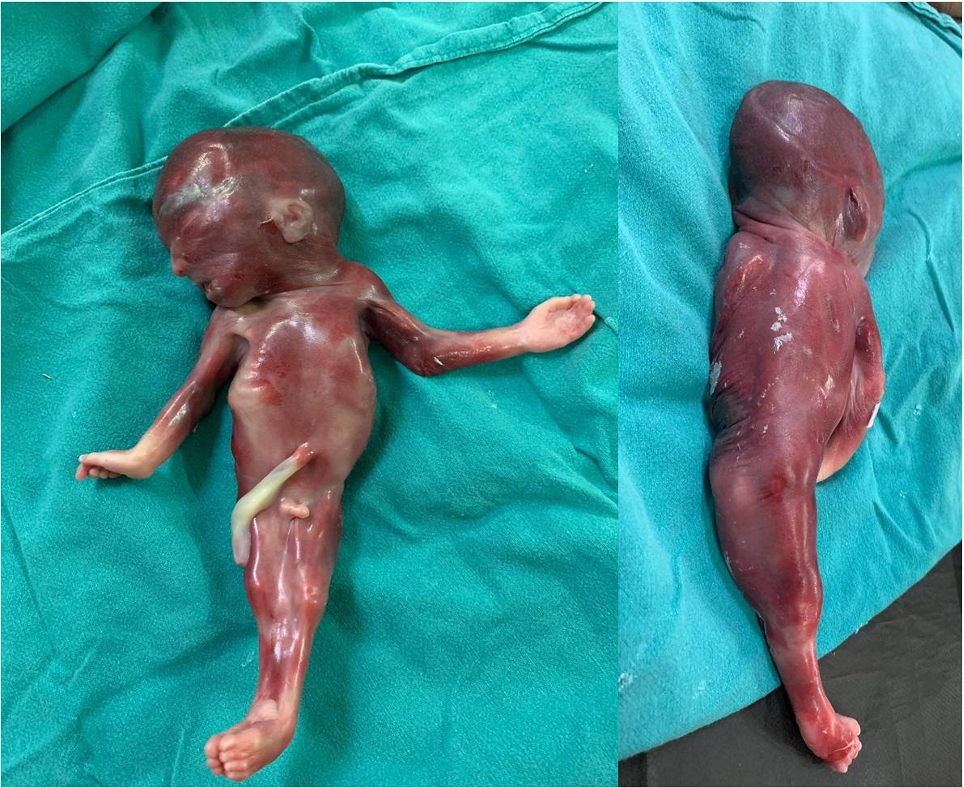 Gross appearance of the abortus showing fusion of lower limbs.
---
Foetal spinal curvature was deformed with multiple vertebral malsegmentation and absence of Sacrum.
---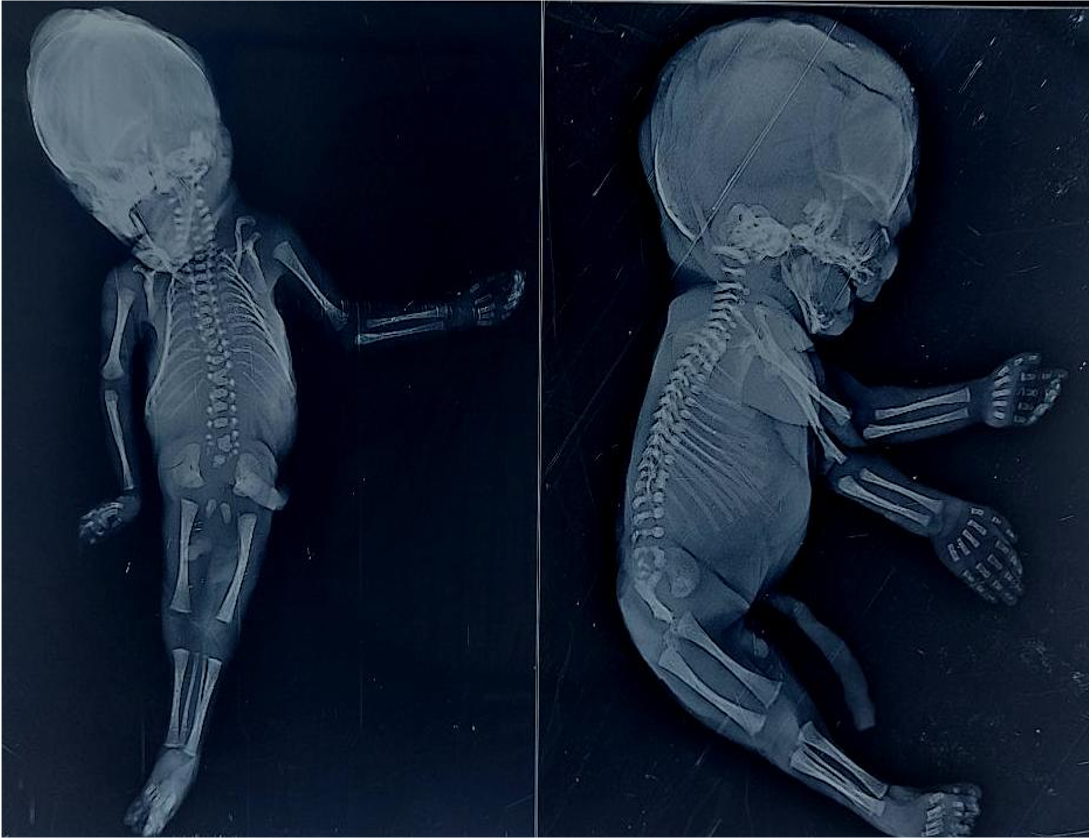 Radiograph of abortus confirmed vertebral anomalies, presence of bilateral femur, bilateral tibia/fibula and foot bones. Both the fibulas were placed medially between the tibias. Left Tibia and fibula were fused distally.
---
Sirenomelia is the fusion of the lower extremities, and it has been classified into three types:
1) Apus- no feet, only one tibia and one femur,
2) Unipus- one foot,two femora, two tibiae, two fibulae, and
3) Dipus- two feet and two fused legs;but feets are malrotated and resembles fins (giving the appearance of a flipper). This latter type is also called "mermaid syndrome".
---
Sirenomelia is a very rare congenital malformation characterized by a variable fusion of the lower limbs along with spinal, urogenital and gastro- intestinal malformations.
The reported incidence is 0.01 - 0.16/10,000 live births*. Because of associated anomalies, sirenomelia is usually incompatible with postnatal life.
Approximately 300 cases have been reported in the literature, with a male to female ratio of 3:1.
*Smith DW, Jones KL: Recognizable patterns of human malformation. Genetic, Embryologic and Clinical Aspects. 2nd Ed. Saunders, Philadelphia, London, Toronto 486-487, 1976.
---
The precise etiology of sirenomelia is not well understood. Many theories have been proposed, but none of these are considered conclusive.
Sirenomelia has been reported as a result of teratogenic agents.
Hibelink et al. have demonstrated that an intravenous administration of cadmium and lead can produce sirenomelia in the golden hamster.
---
Many researchers have considered sirenomelia to be a severe form of caudal regression syndrome because of the observed abnormal development of fetal caudal mesodermal structures before the 4th week of gestation, that later extends to different craniocaudal levels.
It may also lead to the absence of genitalia and renal agenesis if paramesonephric and mesonephric ducts are involved.
If the mesonephric ducts had developed enough, and joined metanephric blastema, the kidneys may develop normally.
---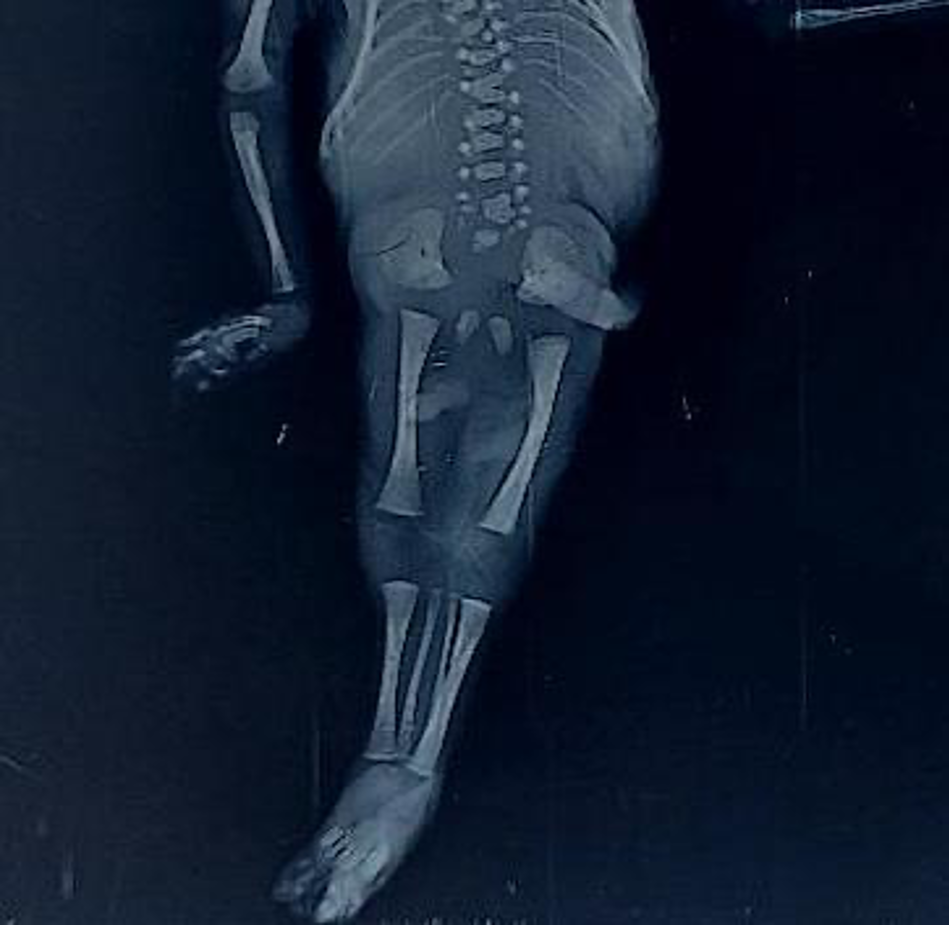 Radiograph of abortus confirming sacro-coccygeal agenesis in our case as it is also seen in caudal regression syndrome.
---
Associated anomalies with sirenomelia in order of frequency are:
Facial anomalies (Potter face), single umbilical artery (usually the right), imperforate anus, genitourinary system agenesis, no external genitalia or ambiguity, lower sacral/vertebral defects, cardiac anomalies, abdominal wall defects, malformed thorax, and usually severe oligo or anhydramnios.
Sirenomelia has also been described in association with maternal diabetes and monozygotic twins (the incidence is 150 times greater than in singleton).
---
The diagnosis may be difficult when a "mermaid syndrome" is associated with renal agenesis/cystic kidneys.
Because oligohydramnios or anhydramnios is almost always present, the injection of saline solution in the amniotic cavity may improve the visualization of the fetal anatomy.
Joined femurs without their separate movements during ultrasound examination should give rise to a thought about possible lower limbs fusion.
Sirenomelia apus is differentiated from unipus and dipus by reduced numbers of long bones.